Manchester United coach Jose Mourinho has revealed that French star Paul Pogba is not completely happy with the role he features in in the national team. The playmaker played a major role in the success of Juventus where he played at for four years, and has been a growing influence at United.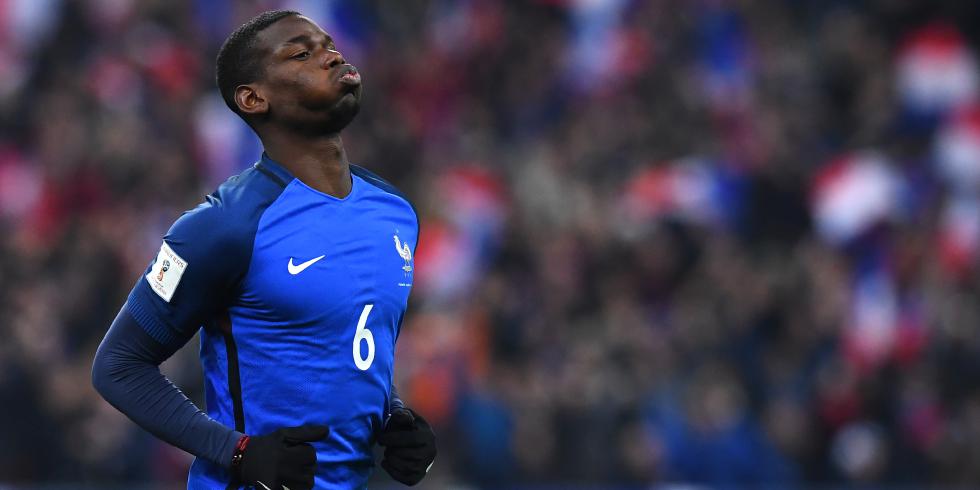 With the role he plays in the French side, it makes it more difficult for him to net goals. Pogba scored last in the 2-1 victory over Sweden last November. His manager at club level is pushing for Pogba to be allowed to contribute more in attack so he can get more goals and assists.
"[Pogba] can make football history. He has talent. [Manchester United] have the balance in midfield to occupy space better. With Blaise Matuidi in the France team, I think he isn't happy," the Portuguese coach explained.
At Old Trafford, Pogba can move forward more and get the goals and assists but the setup in the national team restricts this. It's one of the reasons that you can get odds of over 100-1 at this betting portal on Pogba being the top scorer at the World Cup next summer. In contrast, Pogba has already scored twice in the league so far this season, and has had more shots than he had in his entire debut season!
Unfortunately for Manchester United, the player that they opted to splash out €105 million has picked up an injury that could rule him out for the next 6 weeks.
Whilst Paul Pogba's debut season as a player of Manchester United was far from stellar (he was able to make 30 league appearances and scored just 5 times while only making 2 assists which isn't very impressive for such a costly performer), with the start of the 2017-18 English Premier League season, Pogba was one of the players expected to start showcasing his skills at the big stage.
After 4 Premier League appearances, he managed to score 2 goals and provide his teammates with 2 assists, it was a pretty good way to initiate this new season.
Sadly Pogba will not be able to continue his positive start of the season as he sustained a hamstring injury which has left him unable to play a Premier League match for Manchester United since September 9 when the team of Jose Mourinho locked horns with Stoke City and had to settle with a 2-2 draw.
The 24 year old rising star tore his left hamstring during Manchester United's UEFA Champions League group stages match against Basel and according to latest reports, Pogba could be sidelined and unable to play until November which is a huge blow for Manchester United.
It means Pogba is set to miss out on the next game that Les Blues are involved in. France are set to line up a series of friendly games to help the team prepare following their qualification for the World Cup next year.
First off, they have confirmed they would play Wales next month. The Chris Coleman led side narrowly missed out from the World Cup qualification but they are a decent side nonetheless. The game is slated for November 10 at the Stade de France.
There have been calls for the sacking of Coleman but Welsh players have begged the coach to stay on. Stoke City boss Mark Hughes has also asked that Coleman continue the good work he has been doing with the team. Coleman has been rumoured to be among those considered to replace sacked Leicester City coach Craig Shakespeare, but looks set to stay as Wales boss for now.